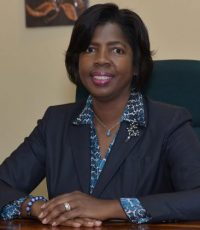 Mrs. Althea Heron
Ex Officio- Executive Director, the UCJ
Mrs Althea Heron is a career Public Servant with over 25 years of combined experience in the fields of education, environment and tourism management. She has held senior directorship positions in the Ministry of Tourism and is an experienced practitioner in strategic planning and evaluation, policy development and analysis, results based management and research.
A graduate of the Mico Teachers' College, Mrs Heron is a former teacher, tutor of Geography and guest lecturer of Tourism. She has held the positions of adjunct supervisor of major research projects in Hospitality and Tourism Management, and Urban and Regional Planning.
Mrs Heron holds a Master of Philosophy Degree in Geography from the University of the West Indies; a Post Graduate Diploma in Public Sector Senior Management from the Management Institute for National Development (MIND); and a Master of Business Administration Degree from the Florida International University.
A former student of the St Jago High School, she has made presentations on resource management and sustainable tourism at local and international conferences and workshops. She has also published papers examining issues pertaining to the sustainability of rural livelihoods in Jamaican communities.
Mrs Heron is a member of the Webster Memorial United Church and a long standing member of the Jamaica Conservation and Development Trust, and the Jamaican Geographical Society.