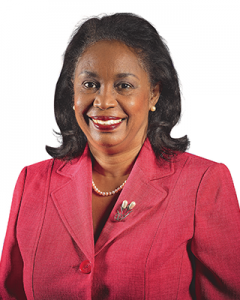 Members of the University Council of Jamaica are drawn from the public and private sectors, professional bodies and societies, and academic institutions in accordance with the University Council of Jamaica Act, 1987.
The Council comprises five committees, namely: Finance; Human Resources and Administration (HRA); Internal Audit; Governance; and the Accreditation, Curriculum and Development (AC&D).
The Council is led by Dr Carolyn Hayle, Chairman (right), and its tenure runs up to March 31, 2019.
The members of the Council are:
Prof Brendan Bain, Vice-Chairman and Chairman of the Audit Committee;
Mrs Althea Heron, Executive Director, the UCJ;
Professor Archibald McDonald, Principal, The University of the West Indies (UWI);
Mrs Barbara Cadogan; Chairman, Human Resources and Administration Committee;
Dr Cecil Cornwall, President, Western Hospitality Institute and Chairman, Governance Committee;
Dr Lowell Dilworth, Lecturer, Pathology Department, UWI and Chairman, AC&D Committee;
Mr Philmore McCarthy, Principal, Excelsior Community College and Chairman, Finance Committee;
Professor Colin Gyles, Acting President, University of Technology (UTech), Jamaica;
Mr Garth Anderson, Principal, Church Teachers' College;
Mr Stephen Edwards, Lecturer, School of Engineering, UTech, Jamaica;
Rev Dr Maitland Evans, President, International University of the Caribbean (IUC);
Mrs Yvonne Clarke, Principal, Bethlehem Moravian College;
Dr Suzette Haughton, Lecturer, Department of Government, UWI;
Mrs Hyacinth Knight; Retired Educator;
Ms Leonie Campbell, Attorney at Law and Chairman of the Procurement Committee;
Mr Carl Lawrence, Legal Officer, Office of the Principal, UWI;
Mr Yaneke Watson, Assistant Professor, Department of Biology, Chemistry and Environmental Science, Northern Caribbean University (NCU);
Dr Karl Whyte, Lecturer, Faculty of Education and Liberal Studies, UTech, Jamaica.
Learn more about the Council Members here.